Welcome
This short guide will help you understand the construction process and what activities you can expect to see during construction once all permits are approved.
Pre-Construction
Click a hotspot to view pre-construction information.
Survey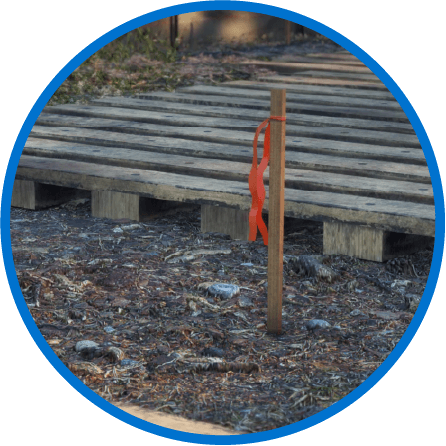 Survey
Construction crews begin by staking the center and outer edges of the right of way, road crossings, and pole locations.
Soil Testing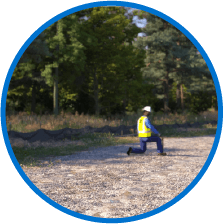 Soil Testing
Soil testing includes drilling holes in the ground to determine the soil make-up so structure foundations can be adequately designed. The holes are refilled after the testing is complete.
Right-of-Way Clearing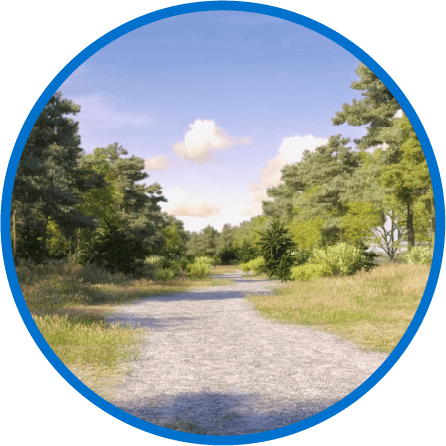 Right-of-Way Clearing
The right of way needs to be cleared of structures and certain types of vegetation. Trees along the right of way that could possibly fall and contact the transmission line are referred to as "danger trees" and will be trimmed and/or cut. Landowners will be notified prior to any activity.
Access Roads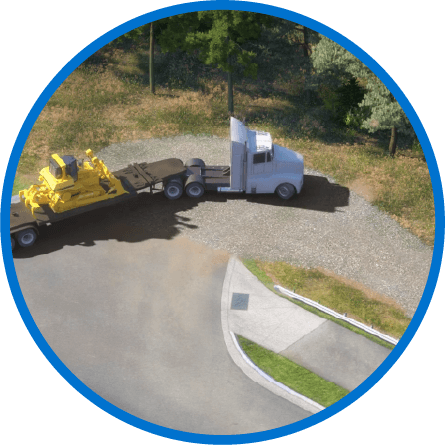 Access Roads
Dominion Energy will use existing access roads, where possible. If access is not available, additional access roads may be installed. Dominion Energy will coordinate with property owners regarding the location of convenient access points.
Wetland Areas
Wetland Areas
Special care is taken to keep impacts to wetlands to an absolute minimum during construction. To mitigate impacts to biological resources in the right of way, Dominion Energy may install erosion control devices, such as silt fences. Temporary wooden construction mats may be used in wetlands and other environmentally sensitive areas to mitigate impacts from equipment and other construction activities.
Construction
Click a hotspot to view construction information.
Foundation Installation
Foundation Installation
Most structures have a concrete foundation. The size and type of each foundation depends on the type of structure, soil make-up and the terrain.
Structure Construction
Structure Construction
Once foundations are in place, structures are generally built from the ground up. Structures are assembled in sections and a crane or helicopter (although rare) may be used to lift the sections into place.
Wire Stringing
Wire Stringing
Wire stringing includes the installation of conductor(wires) and associated hardware for the length of the route. After installation, linemen inspect the newly installed conductor.
Noise
Noise
Dominion Energy will take measures to mitigate construction noise as much as possible. Work will take place during reasonable daytime hours and in accordance with state and local permits and allowances.
Post Construction
Click a hotspot to view post construction information.
Right-of-Way Restoration
Right-of-Way Restoration
After construction is complete, disturbed areas will be restored with native plantings. All construction materials and debris will be removed from the site.
Right-of-Way Access
Right-of-Way Access
Dominion Energy will restore roads and entrances to their original condition unless they are necessary for permanent access to the right of way.
Vegetation Management
Vegetation Management
Vegetation growth will be monitored and maintained to assure continued service reliability of the transmission line. Trees that pose a hazard to the safe operation of the line may be trimmed or removed.
CONTACT US